Treasury Career Service – Find new possibilities in your Treasury Career!
After marriage, children, and buying a home, career decisions are the most important for many of us. An increasing number of people want to create conscious career directions for themselves. On their initiative or of their employers. Adriana Ciuche, certified Treasury coach and treasuryXL, house of the Treasurer Test, found each other in the "Treasury Career Service". This is a service that helps (aspiring) treasurers create a foundation for their careers.
---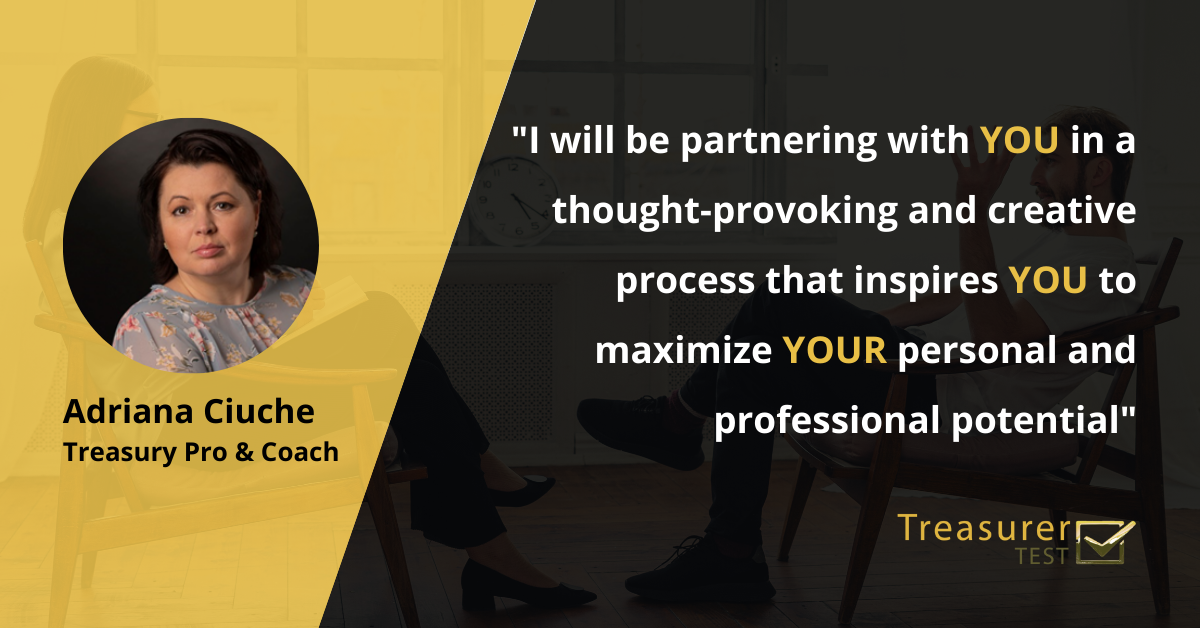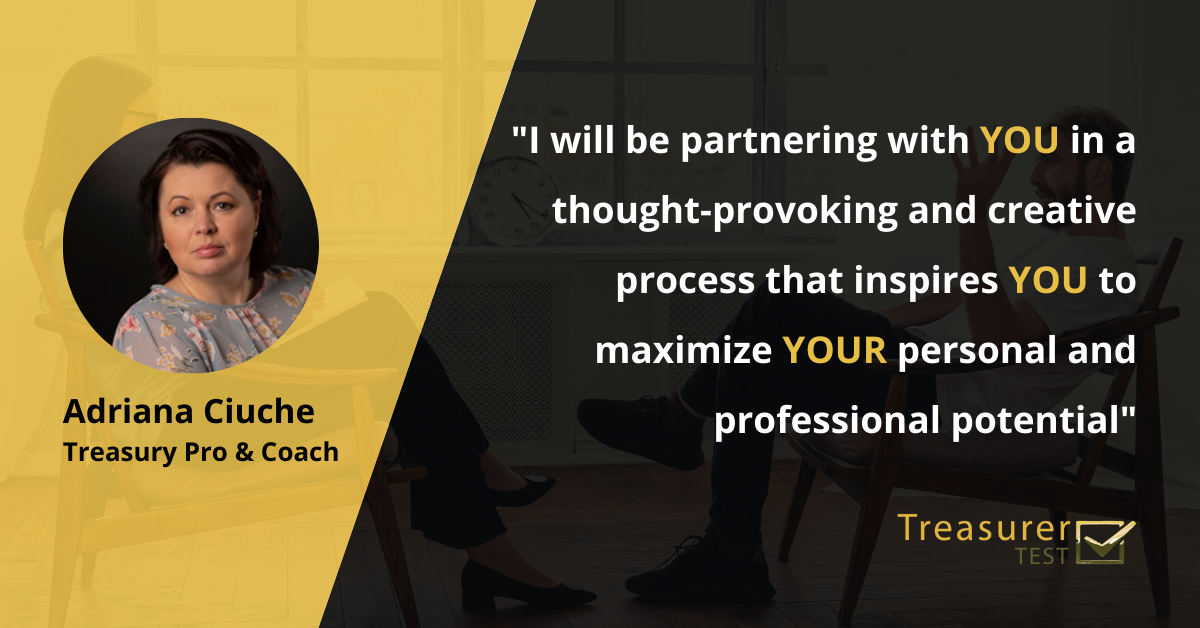 ---
Treasury Career Service
The Treasury Career Service is a strong and quick scan that consists of two video-based meetings and the Treasurer Test online assessment. Attention will be paid to both treasury-related aspects as well as personal aspects. Adriana has a long track record in treasury and decided to combine her career in this field with professional coaching. The Treasurer Test is originally was designed as a recruitment tool and holds a treasury knowledge & skills assessment as well as a Big5 personality assessment. The joint forces of Adriana and the Treasurer Test will support candidates in career decisions about education, what position to focus upon and which personal skills to invest in.
Adriana is happy to introduce herself to you!



WHO AM I?
I am a Treasury professional and Coach who is passionate about creating new perspectives, increasing awareness, and enabling my clients to find new possibilities in their Treasury careers.
I am good at connecting with and listening to people around me.
Over 25 + years I worked as Treasury lead in internationally listed companies across Europe. That has contributed to building up my Treasury knowledge and expertise.
To ensure I provide my clients with the highest standards of my Coaching,  I have followed more than 100 hours of training with an International Coach Federation (ICF) program in The Netherlands.
I have coached professionals from more than 10 different industries, in 3 different languages, summing up to 100 hours of Coaching. And counting on.
You might label me as a parent, a professional, a partner, or a woman, but above all, I am being MYSELF. Every single day, without compromising.


HOW COACHING WITH ME WILL WORK
I will be partnering with YOU in a thought-provoking and creative process that inspires YOU to maximize YOUR personal and professional potential. We will work together to address questions such as: What is holding you from achieving the dream Treasury career? How can you show people your full potential? How can you make yourself visible within the organization?  How can you determine having others see you're perfect for the next role?
I will be right next to you and support you in finding your true essence and connecting to your true self. Once you are truly connected to yourself, magic happens. And I will coach you to shift your mindset from REACTING to everything happening to you and move into CREATING the Treasury career that you want and deserve.
I cannot wait to get to know you and your story. Feel free to contact me at [email protected] and let us have a chat about your Treasury Career.
Warm regards,
Adriana
---
The Treasury Career Service costs €595 ex VAT and is completely computer and video-based.
---
Get inspired about Treasurer Test possibilities!
Wout van Wijlick, Manager of the Treasurer Test
---
Fill in the form, or contact Wout directly. Together we will explore how the Treasurer Test can be of benefit to you
---
https://treasurertest.com/wp-content/uploads/sites/2/2022/06/Treasury-career-service-200.png
200
200
treasuryXL
http://treasuryxl.com/treasurer-test/wp-content/uploads/sites/2/2019/06/Treasurer-Test-logo-2019_original-300x64.png
treasuryXL
2022-06-09 13:00:48
2023-02-03 10:44:55
Treasury Career Service – Find new possibilities in your Treasury Career!