The most challenging part of the Treasurer Test for the students
The students of the Treasury Management minor program at Hogeschool Utrecht recently took the Treasurer Test for the first time and it was a challenging experience for the fourth-year HBO students. The results showed that there was one part of the Treasurer Test that students struggled with the most. Recently, via a poll, we asked treasurers which part of the Treasurer Test this was thought to be; will this be consistent with our findings? You can read more in this article.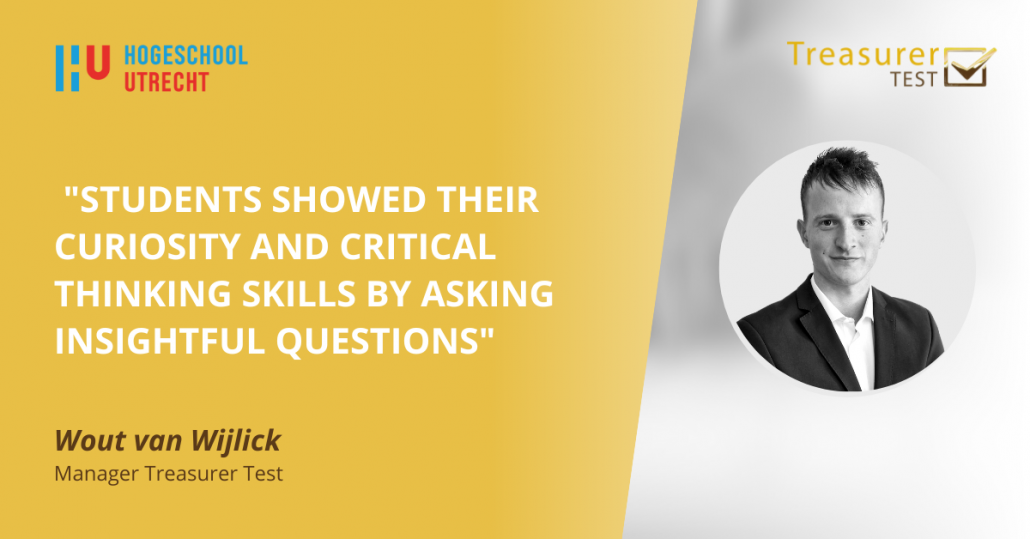 First of all, it is great to see again the treasury community thinking along about the skills of beginning treasury students. Whereas previous time we focused on the best-made part of the Treasurer Test, this time we are going to look at the most challenging part for the students. As many as 62 treasurers gave their input on the issue via our LinkedIn page.
The most challenging part of the Treasurer Test for the students
Through our recent LinkedIn poll, we found that treasurers had different expectations about the most challenging part of the Treasurer Test. Yet, a large majority of 55% were convinced that this must have been the Corporate Finance section, which was indeed proved to be the case after examining the results, as shown in the image below.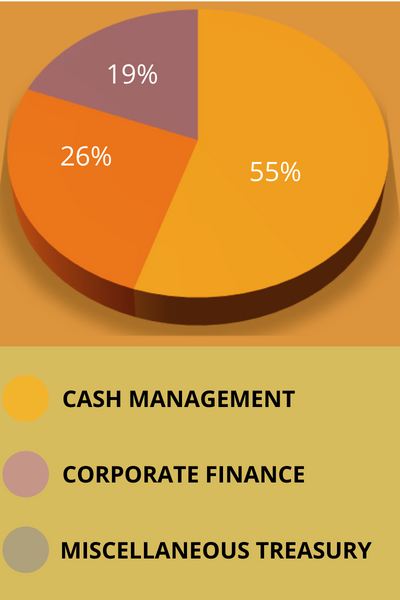 Team Treasurer Test as well as the treasurers who had voted via LinkedIn recognised that Corporate Finance was the most difficult. According to Frans Boumans, this outcome may be due to the complex and often intricate financing and payment structures in Corporate Finance, making it a difficult field to grasp and understand for students.
Wout his view on the Treasurer Test experiment at Hogeschool Utrecht
Our visit to the students of  Hogeschool Utrecht was a very enjoyable and insightful experience. During our visit, the students showed their curiosity and critical thinking skills by asking insightful questions on the Treasury profession. This was further evidenced by a large number of students from the minor participating in the Treasurer Test experiment. The results of the Tests provided valuable insights for the students but these were also of interest to Team Treasurer Test. As such, we found out more about how novice treasury students stand in terms of the profession.
As a reward for their efforts, the two students with the highest scores received also a small reward. All in all, our collaboration with Frans and Hogeschool Utrecht was a great success!
Wout van Wijlick
Also curious about further results we will see? Like the post, follow Treasurer Test on LinkedIn and keep an eye on us!
---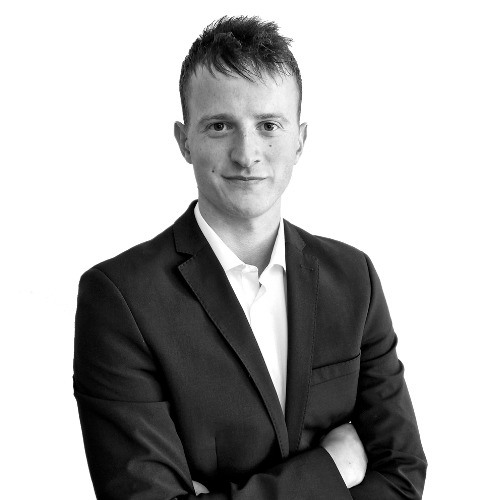 Get inspired about Treasurer Test possibilities!
Wout van Wijlick, Manager of the Treasurer Test
---
Fill in the form, or contact us directly. Together we will explore how the Treasurer Test can be of benefit to you
https://treasurertest.com/wp-content/uploads/sites/2/2023/02/wout-tt-200.png
200
200
treasuryXL
http://treasuryxl.com/treasurer-test/wp-content/uploads/sites/2/2019/06/Treasurer-Test-logo-2019_original-300x64.png
treasuryXL
2023-02-16 12:10:15
2023-02-16 12:10:15
The most challenging part of the Treasurer Test for the students